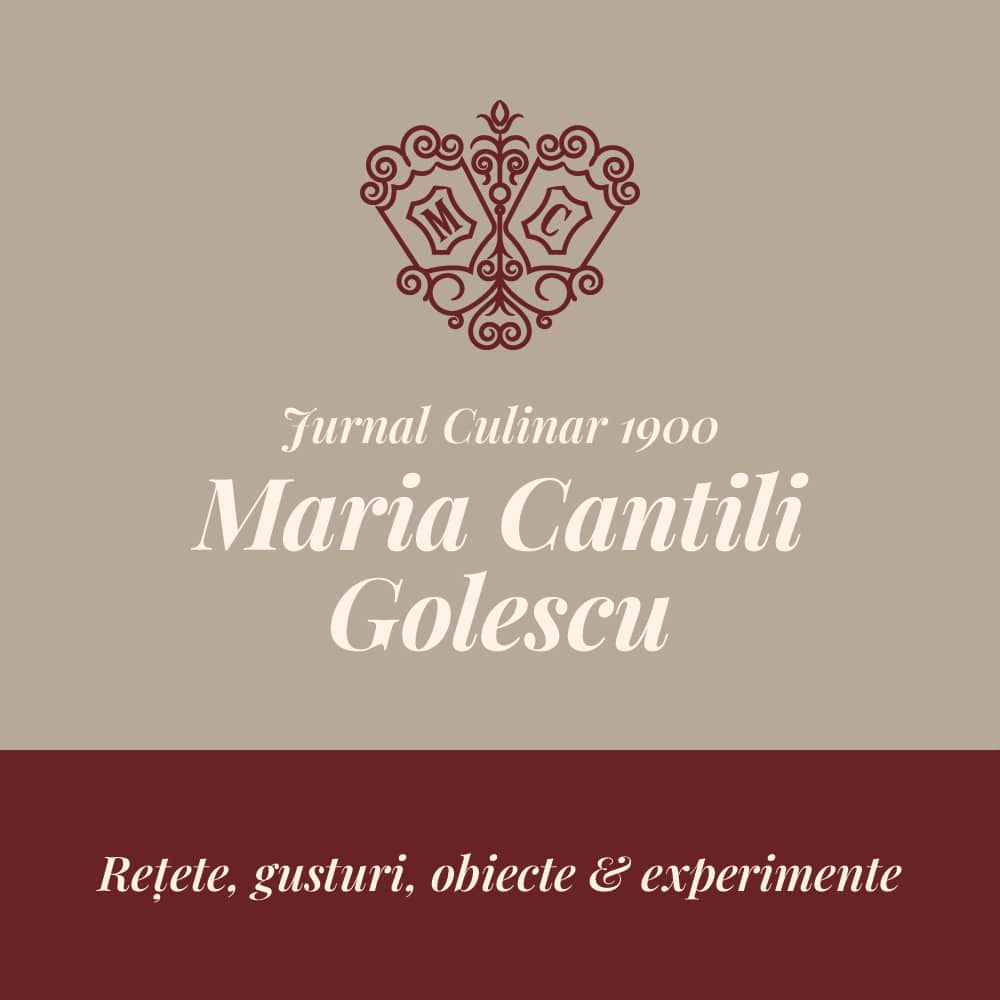 Ten Contemporary Experiments from Maria Cantili Golescu's Culinary Recipe Book
The story of the notebook with "cooking recipes", as Maria Cantili Golescu called it in 1900, enters a new stage in our project entitled "Maria Cantili Golescu – Culinary Recipe Book – recipes, tastes, objects and experiences", carried out during this year aims to recover these fragments of taste over a century old, to give access to information for the public passionate about our culinary heritage and offer a small contribution to the enrichment of local gastronomic literature by publishing this notebook in a digital version that will be freely accessible in the ProPatromonio archive starting this autumn.
A multicultural notebook
Maria Cantili's recipes were written in four languages at the beginning of the last century, in a splendid calligraphy specific those times, and describe an unexpectedly cosmopolitan way of cooking and dining, deeply influenced by Western European culinary trends, especially French, but also English, Iberian, German and Italian. It should not be forgotten that the author belonged to a privileged social category at the time, highly educated, multilingual, well-travelled and having had the opportunity to live in several European cities. The multiculturalism of the Golescu family, and perhaps of an entire local elite, is reflected in these glimpses of everyday life suggested by the way they ate, and reveals an interesting piece of Romanian gastronomic history from a decade not yet covered by other sources.
In the first part of the project, we carefully photocopied and digitised every page of the notebook, followed by many weeks working on transcribing the original recipes, translating them into Romanian and editing the texts so that the language became easy to understand for the contemporary reader.
Contemporary cooked recipes
This summer, we're entering a new and even more spectacular phase of work, with 10 professional and amateur chefs joining the project to help us bring to life a series of recipes from the notebook. These recipes, narrated and cooked by our chefs, will be published in a new "cookbook", with clearly explained texts and photos, also aimed for the public.
We have therefore invited Andrei Chelaru (Fragment, Cluj), Oana Coantă (Bistro de l'Arte, Brasov), Irina Georgescu (author of the cookbook "Carpathia"), Cristina Mehedințeanu (Horeca Culinary School, Bucharest), Mara Oană (Viscri 32), Mona Petre (Ierburi Uitate), Alex Petricean (Noua, Bucharest), Mădălina Roman (Szikra, Sf. Gheorghe), Horia Simon ( Transylvanian Gastronomic Club), the team of Adriana Sohodoleanu and Cosmin Dragomir (Gastroart) and Adela Trofin (Slow Food Edinburgh).
This summer, as our chefs venture out to bring these old recipes back to the table, we'll share with you glimpses (in stories and pictures) of the process.
"Maria Cantili Golescu's Culinary Diary-recipes, tastes, objects and experiments" is a cultural project of Pro Patrimonio Foundation co-financed by the National Cultural Fund Administration.
Media partners: Scena 9, Rock FM, Muscel TV, Revista Zeppelin
Friend project: "Ierburi uitate"
The digitised workbook, "Recettes de Cuisine", can be found in the Foundation's library of useful resources here
Read also:
Girdle, ustensilă istorică de gătit
Digitized Booklet "Recettes de Cusine"
The Culinary Diary of Maria Cantili Golescu-recipes, tastes, objects and experiments