Support Romanian Heritage by Using it!
ACCOMMODATION / HISTORIC DWELLING IN A TRADITIONAL SAXON GUEST HOUSE IN VISCRI (BRAȘOV COUNTY)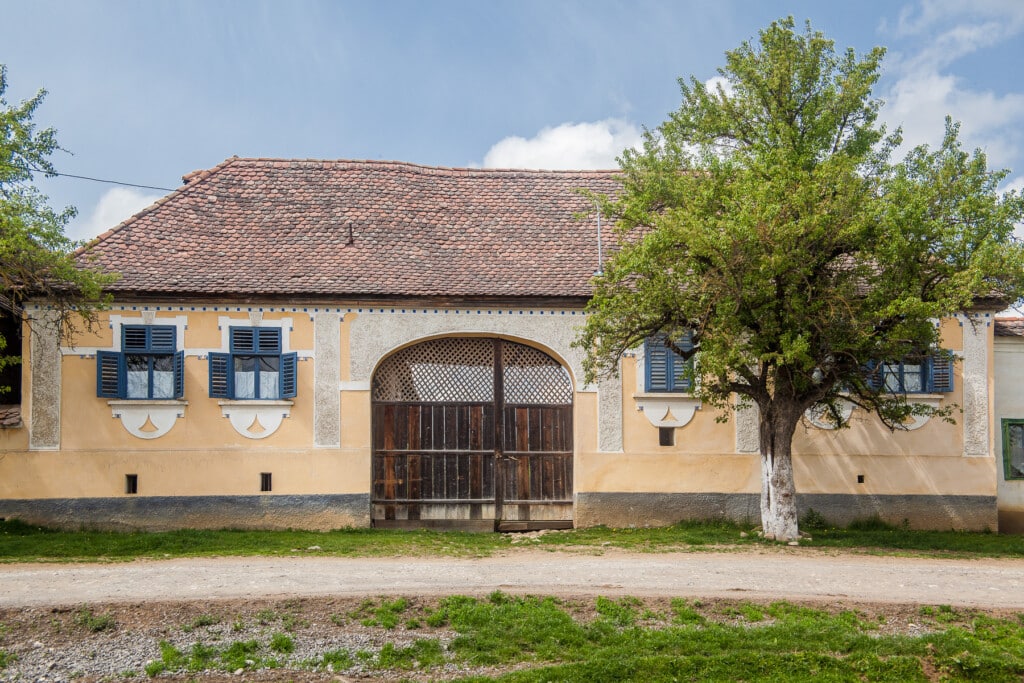 Experience the traditional dwelling in the Saxon guest house, restored and owned by Pro Patrimonio Foundation, at number 18 of the lovely Viscri village in Brașov.
Appointments and reservations at propatrimonio.romania@gmail.com.
This guest house is made up of two buildings which were built in the the first half of the 19th century. It has been recently restored in good old fashioned Transylvanian countryside style and is now one of the most representative traditional houses in the village.
The left hand house has 1 large master bedroom with double bed, separate shower and toilet, a summer dining room and a simple but modern kitchen area that allows you to be self-contained if you wish. The right hand house has 1 large master bedroom (with double bed), a single bedroom and bathroom. If you wish to taste the local, rich cuisine, your host Lili will happily invite you to taste local flavors. Both houses have traditional tiled Saxon 'soba' (stoves) for heating. Wood will be provided for you when the weather turns cold and you will fall asleep listening to the relaxing, reassuring sound of the fire.
ACCOMMODATION/ HISTORIC DWELLING IN GOLESCU VILLA, CÂMPULUNG (ARGEȘ COUNTY)
Located at the foothills of the Carpathian Mountains on the soft slopes of Câmpulung Muscel with a splendid view over the city and the entire valley, the Golescu Villa is an invitation to inhabit a living museum.
Appointments and reservations at propatrimonio.romania@gmail.com.
Due to its location, the villa offers both the possibility of spending time indoors, in the vast library, as well as outdoors by exploring the 100-year-old park, full of rare species, surrounding the villa.
Villa Golescu in Câmpulung Muscel is a unique architectural complex and landscape setting as it preserves valuable architectural elements, furniture, art and a four-hectare terraced park with rare and exotic plants.
Villa Golescu belonged to an old Romanian family whose history begins in the 15th century. Irina and Viorica Golescu, the last descendants of the family, donated the house and the vintage furniture, the library, small objects and carpets to the foundation. Built in 1910 by their father, it is a successful example of the neo-Romanian style specific to this region that survived the world wars and communist epochs thanks to family descendants who wanted to preserve the ensemble for future generations.
The result of the restoration process is a combination of Golescu Memorial House and a cozy guest house with all the modern facilities, consisting of a generous lobby, salon, dining room, living room, kitchen, five bedrooms and three bathrooms. It is one of the few cases of successful conservation and integration of a heritage objective in community life.
To find out the costs and conditions of accommodation or to organize events or photo sessions in the villa and/or in the park that surrounds it, consult Locuire Istorica Vila Golescu 2022
Pro Patrimonio is a partner of https://www.into.org/places/