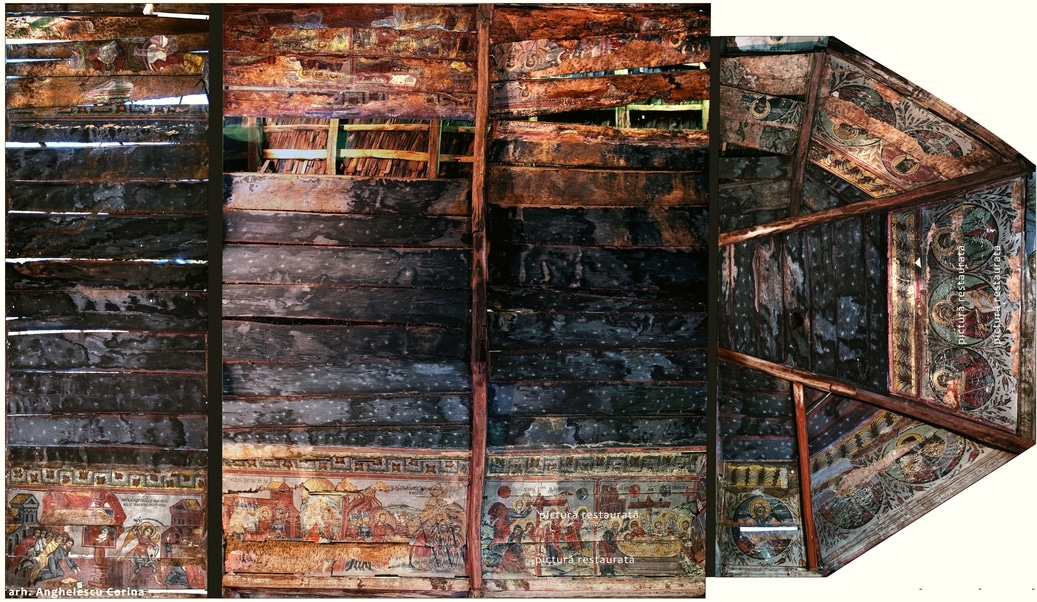 Reinstallment of the vault and roof
In 2015, a number of activities took place at the restortion site Ursi wooden church. A campaign promoting the project took place at the same time, in order to inform the public of the importance of such a monument.
During the first half of 2015, the painted beams from the wooden church in Ursi were transported to the National University of Arts in Bucharest and restoration works were coordinated by Prof. Dan Mohanu and two young artists, Ana Chiricuță and Laura Hangiu. These two recieved scholarships from Pro Patrimonio over the entirety on their time working on the church.
Between 1st and 2nd of July, Casa Mincu in Bucharest hosted an exhibition for the licence works of some students from the National University of Arts, the topic being the vault paintings of the wooden church in Ursi.
Restoration works were conducted over the summer to coat the remaining beams at the Ursi site in biocide substances, different parts of the vault fresco were restored and repairs to pieces of the wooden vault were made.
An event of great importance happended during autumn, when the vault and wooden roof were reassembled and parts of the fresco were secured/reinforced on the walls. The roof with wooden shingles was completed and the superior part of the temporary structure was removed. It was decided to keep the lower part of the protective temporary structure to prevent the degradation of the outer fresco, before it can also be reinforced.