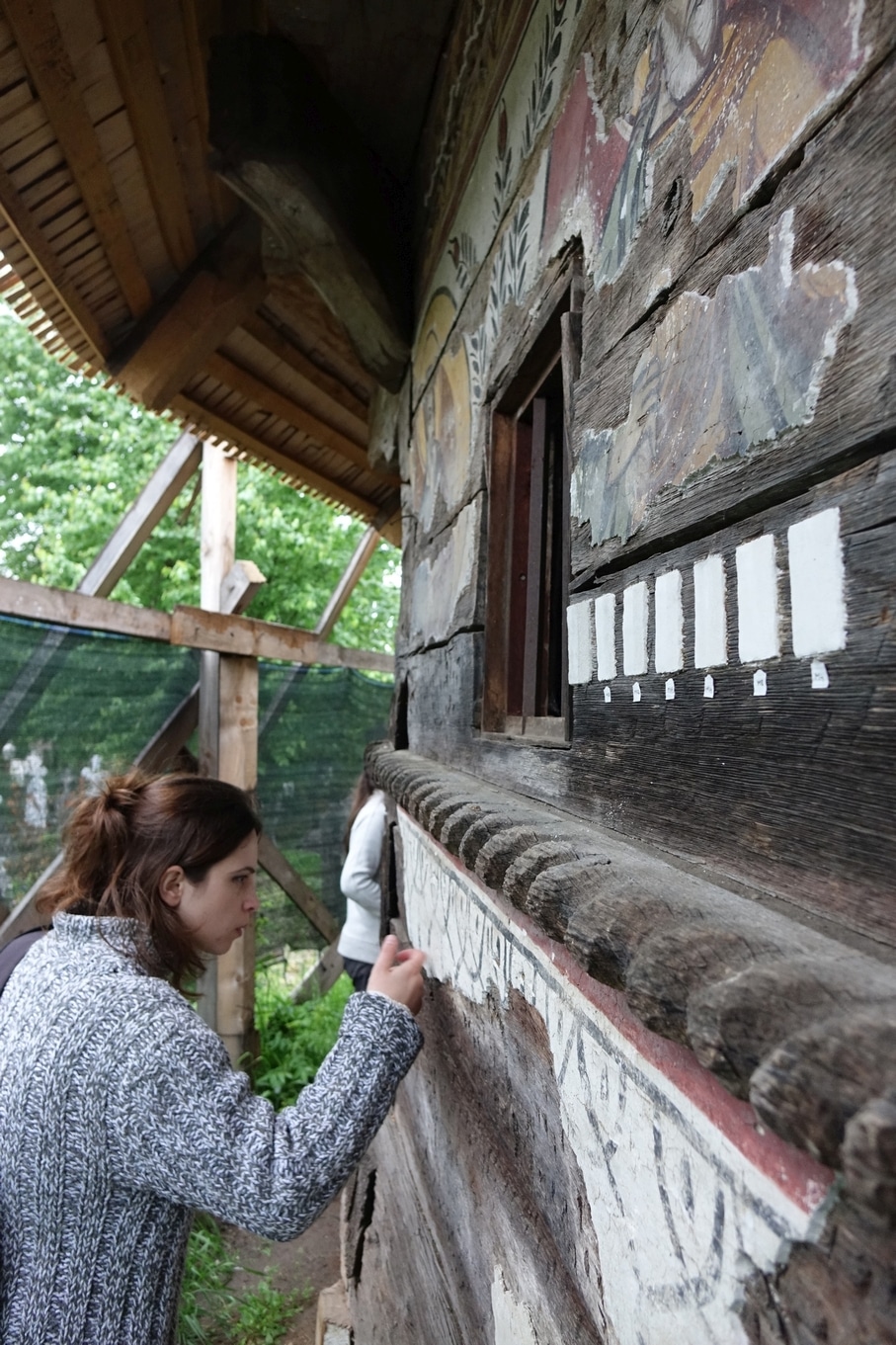 Pavement and the Restorers' House
The main projects carried out during 2016 circled around preserving the wall paintings, especially the exterior ones. The window frames were repaired in a workshop in Băile Olănești, a village 50km away from Ursi. The iron parts have been replaced with new ones, forged at Ţibănești at the blacksmiths' school. The windows in the church haven't been replaced yet because the production of the iron elements was delayed.
A 15 cm stone layer was placed under the pavement to prevent the humidity from reaching the wood. The old pavement was completely replaced by a new one, made out of oak floor boards, a third of them provided by the local community.
Since the church didn't have access to electricity, we set up an electrical installation running under the floor and a lightning rod.
The furniture is to be moved to the wood workshop in Băile Olănești for repairs and further additions. This process was left for the cold season, when it will no longer be possible to do any work on site.
Even if the original plan was to begin the restoration works on the bell tower, this was rendered impossible since wood from the scaffolding is needed for it. But the scaffolding is still used to preserve the paintings on the interior. Part of the wood from the temporary structure protecting the church was used in an emergecy intervention at the Sirineasa church ( 10 km south from Ursi).
Additionally, in May and June, we worked to arrange a house for the volunteers and the restorer who are to live in the village. This is a traditional village house and the owner allowed us to use it for the next 2-3 years as a guest house for people who work at the church. These works consist in cleaning and building a proper bathroom for the house. All this was only possible with help form the community and the materials were donated from a company specialized in sanitary ware (Delta Studio).nstruirea unei băi adecvate. Toate lucrările au fost realizate doar cu ajutorul comunității, iar materialele au fost donate de la o companie specializată în obiecte sanitare (Delta Studio).