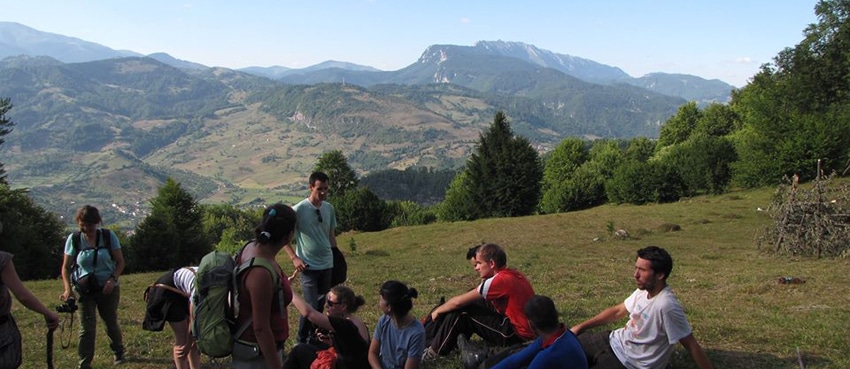 Landscape Workshops, 2012-2016
The series of landscape and gardening workshops at the Golescu Complex between 2012-2016 are connected to European concerns about the notion of cultural landscape (with a special cultural value resulting from the interaction between man and the natural environment) which the natural landscape is an integral part of. At the same time, the process and knowledge resulting from the workshops represent a period of professional exchanges and training on the topic of the landscape which have contributed to the creation of a Cultural Landscape Observatory in Câmpulung.
The landscape plays an important role in the cultural, ecological, environmental and social fields and represents the support of economic activity (landscape protection, management and planning can contribute to creating new work places) according to the European Landscape Convention in Florence, 2000, ratified by Romania through Law 451/2002.
Also, the workshops dedicated to gardening that occurred in the open park and at Golescu Villa are based on the philosophy that "a historic garden is an architectural and vegetal composition that, from a historical and artistic point of view, presents public interest" (Historic Gardens Charter, Florence, , 1982).
As a result, the gardening workshop in August 2012 coordinated by landscape designer Nicolas Triboi, attended by students from landscape design at Ion Mincu University of Architecture and Urbanism in Bucharest, focused on gardening, landscape reading, explorations into the agricultural area, talks about biodiversity change, etc.
Basically, in 2012 Pro Patrimonio wanted to organize a gardening workshop based on the model of volunteer work sites organized by the French association Rempart. The workshop objectives were to clean the garden and initiate the use of gardening tools (scissors, scythes, saws, wheelbarrow etc.), clean the old trees, extend the garden (by creating new paths and green chambers in the grove toward the forest), renovate the stone walls (dry masonry), build a pergola (reconstruction after an archive photography) etc.
The next workshop in 2013 supervised by landscape architects Nicolas Triboi and Clément Briandet (both graduates of the École National Supérieure du Paysage de Blois et Versailles) explored in depth the concept of landscape. From the garden of Golescu Villa to the great landscape, the program of this training workshop combined theoretical presentations with debates and practical activities on the chosen topics related to the evolution of the landscape, and with meetings with local personas who shape these landscapes in relation to Golescu Villa.