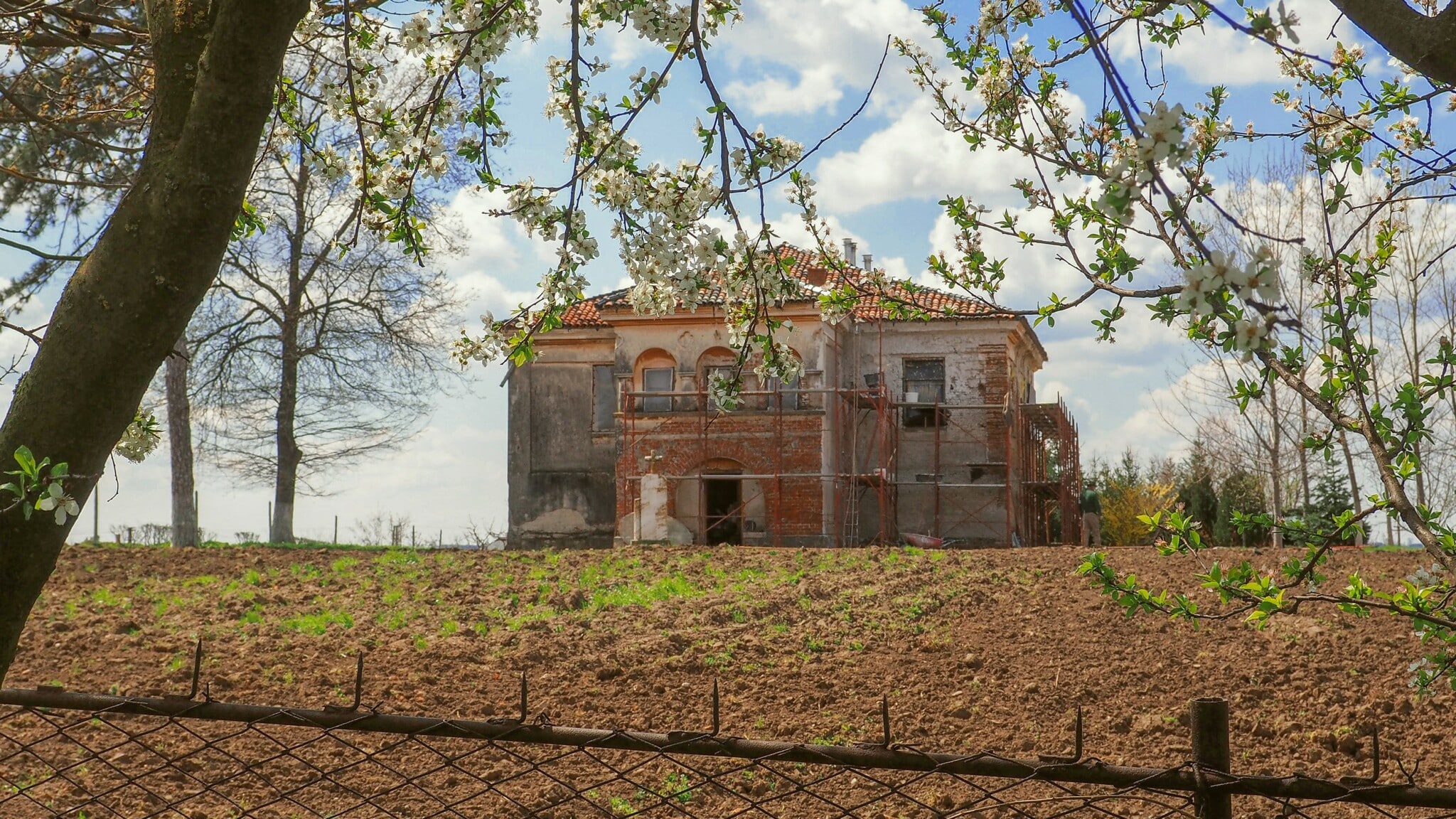 Experimental Garden at the Neamțu Manor
Context. Climate changes.
The desertification process has become a chronic problem in southern Romania. Experts estimate that over 1,000 hectares of land become sand dunes every year, which means that in 50 years the vast majority of southern lands will be covered with sand, in the absence of immediate action.
The Neamţu manor in Olari is located on 1.3 ha terrain which, in the interwar period, was the administrative center of another agricultural field, surrounded by a recreational garden. In the 50's it became the CAP in the village, gradually becoming dry land, transformed into a vacant lot.
Located in the Olteţ meadow, 30 km from Slatina and 43 km from Craiova, Olari village in Pârşcoveni commune is a predominantly agricultural, impoverished area, with certain desertification tendencies due to climate change, deforestation and destruction of existing irrigation systems. Many families live only on unemployment support, the inhabitants are deprived of access to information, which is why they practice the same type of agriculture without the result with which they were accustomed.
Solution
The "Experimental Center for Studies and Education at the Neamţu Manor in Olari" will initiate a model of experimental agriculture that will provide soil stability with sustainable solutions for the future. We also want to offer a model for the use and rescue of these types of arid, dried up lands for the rural community. Thus, the locals will be able to practice a subsistence agriculture and even medium-term long-term agriculture.
In this process we partnered up with Forgotten Herbs for their expertise in culinary archeology, with an emphasis on food plants from spontaneous flora or forgotten by contemporary gastronomy. Together we planned to create a small experimental garden around the mansion. We will grow there some species and varieties resistant to drought, the scorching heat of Oltenia and its type of soil. This year we will try an experiment with some more resistant historical species, but which will also have a connection with the place.
The Experimental Garden
For this we chose fenugreek (Trigonella foenum-graecum), an aromatic plant from which both leaves and seeds are used and which we know were used in the old Oltenian cuisine, and peas (Lathyrus sativus), a legume almost unknown today, but widely consumed in the ancient Balkans, for which we ordered the seeds from Croatia. We add two kinds of artichokes (Cynara scolymus), an ingredient that appears in the Brâncovenesc Manuscript from the early 1700s, giving us indications, practically, that these plants were cultivated in southern Romania.
We will plant four traditional species of Mesoamerican corn well adapted to drought conditions, obtained from a collector of rare varieties from Satu Mare.
We try to help the dry soil from Olari by practicing traditional agriculture according to the "three sisters" method by which corn is grown with beans and pumpkins, three species that grow in harmony and help each other by loosening the soil in depth and enriching it naturally with nitrogen. and nutrients.
We also join some varieties of traditional beans (including Anasazi), others of pumpkins of many kinds and calabash (Lagenaria siceraria) another culinary plant that appears in the Brâncovenesc Manuscript, consumed at the royal court before the pumpkins reached Eastern Europe, today completely forgotten.
In autumn we will also put raisin vines that we will take from the Research Station from Drăgășani and possibly lavender.
Water
There used to be a water fountain as well as a decorative fountain. We consider it a priority to build a well that provides clean water for these agricultural works as we found the old well to be clogged. So we started drilling a new well. Although the initial forecasts showed that we will find water at a depth of 20 meters, it turned out that nature has plans of its own and the water is at a depth of 33 meters. Additional desanding and protection works against sand were added so the costs doubled. However, through a public call we managed to raise the amount of 5,825 lei which was covered by 34 private donors and the Bilceşti Gardens from Vâlcea County. We give out thanks to all.
Forgotten Herbs started out in 2012 as an independent botanical exploration project from the perspective of culinary archeology, focusing on food plants from spontaneous flora forgotten or lost by contemporary gastronomy. Over time, the project has evolved in several complementary directions, involving a team of people welded around the same passions at the intersection of botanical research and food anthropology, with forays into history and art, but also encompassing a physical side of interaction with nature through community gardening, volunteering and environmental education activities. Thus the "Historical Garden" was born, a thematic sector located in the Botanical Garden of Bucharest populated with plants grown in the eras before the arrival and spread of plant species brought from the New World, followed by the Legumim project, an urban garden of ethically grown and sustainable vegetables. according to the principles of permaculture.
https://www.facebook.com/IerburiUitate