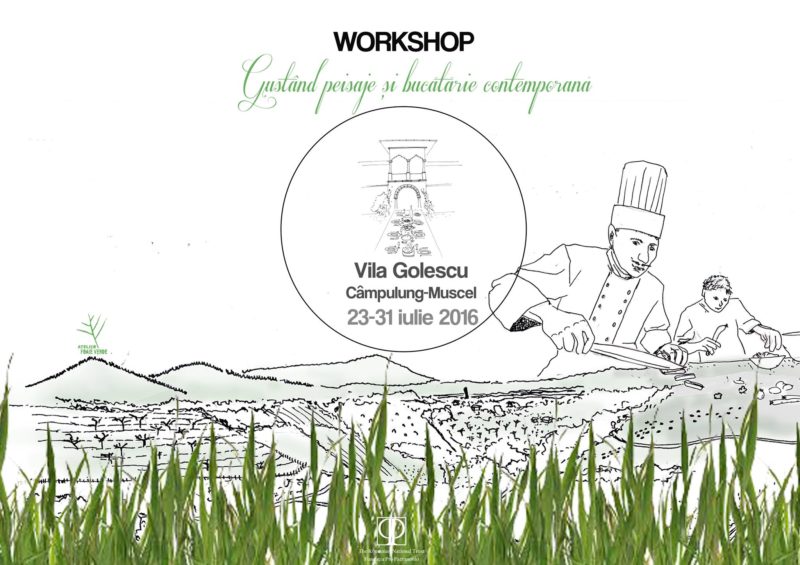 Culinary Landscape Workshop, 2016
In order to explore in depth the concept of cultural landscape, the Golescu Landscape Observatory proposed a new theme for 2016: the connection between the local culinary landscape and contemporary cuisine. If the first series of workshops was dedicated to gardening in the century-old park of the villa, to exploring the setting with its surrounding hills and mountains, in 2016 the Golescu Complex became the starting point where one gets "a taste" of its sublime landscapes.
The workshop was held by two landscape architects (Nicolas Triboi and Alina Adascalitei) and two chefs (French Théo Ducher and local housewife Mariana, Lunca Gârtii village).
Coordinators' argument: Landscapes are the basis of local products that we can use in our diet. The diversity of the landscapes around Câmpulug ensures a richness often unknown for quality products: warm and fertile plains, cultivated hills, pastoral and wild mountains. What could be friendlier than a good meal that opens the spirit? Isn't the kitchen the ideal place for sensory reinterpretation of landscapes? Why wouldn't this be an ideal time to recharge? Vegetables, mushrooms, meat, cheese, herbs… "tell me what you eat so I can tell you who you are!" Landscapes taste good, they are edible and we have to rediscover them in order to better "cook" them.
The workshop included several stages: discovering local products, places of production, producers; tasting local products and their classification, scientific and taste analysis; cooking workshops: the meeting between traditional and contemporary cuisine; editing a recipe guide from the Golescu Villa.