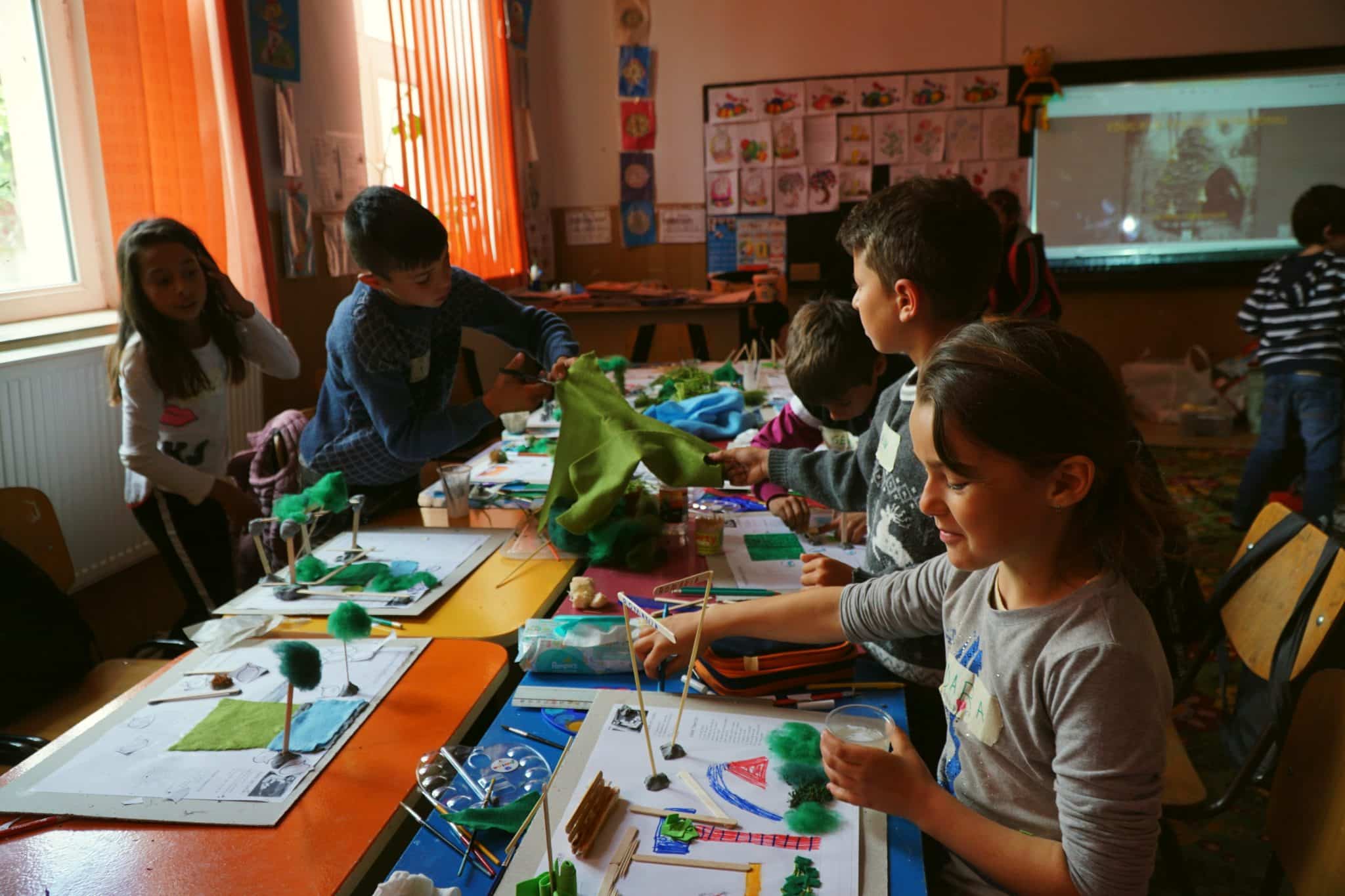 "Workshop 2: The Landscape Designer" May 10-12, 2019
The project "Education for Heritage" gathered a new string of stories and adventures between May 10 and 12 2019 in the school courtyards in the local communities of Izvoru, Olari and Câmpulung Muscel. The children got acquainted with the world of landscape designers and found out what they do and why they are useful. Then got to play their role giving creative, responsible and sympathetic responses to the challenge of having to set up their own school yards according to custom-made plans.
We then changed the scale of the works and aimed for a human-sized model, namely an outdoor pavilion of hazelnuts. We chose the most suitable place in the school yard and started the construction of a small space for relaxing, playing and growing vegetables. We trained their attention and patience to be able to carefully handle not only the reeds, but also the different tools needed: scissors, drill or "mouse". In parallel, we worked to create a series of seedlings that the children will take care of and then plant with us right at the base of the structure, the wicker pavilion thus becoming a growth support for beans, cucumbers, pumpkins or peas.
The work was not without reward, so that the small landscape designers finally had the opportunity to even experience part of the future culinary micro-landscape created, testing some of the freshly planted vegetables in the form of vegetarian wrappings with hot pies and unique tastes.
We enjoyed around six hours of patience and enthusiasm from the children of each workshop held in the three communities. We know for sure that we planted the seeds of possible future landscape designers in over 15 people from each location and that we felt excellent together with teachers, parents, volunteers and other helpers who appeared during one of the most beautiful building adventures in the series of heritage meetings around Perticari-Davila Manor, Neamțu Manor and Golescu Villa.
We thank the dedicated team of volunteers, Ana Luiza Simion and Anda Tănase, the specialist behind the video camera, Alin Iacob and his little assistant Andrei, and especially the teachers and school principals who have given us all the support necessary to build the three pavilions in the courtyards of the schools from Olari, Izvoru and from the "Carol I" Pedagogical High School in Câmpulung Muscel.
Cultural project co-financed by AFCN. The project does not necessarily represent the position of the Administration of the National Cultural Fund. AFCN is not responsible for the content of the project or how the results of the project can be used. These are entirely the responsibility of the beneficiary of the financing.
---