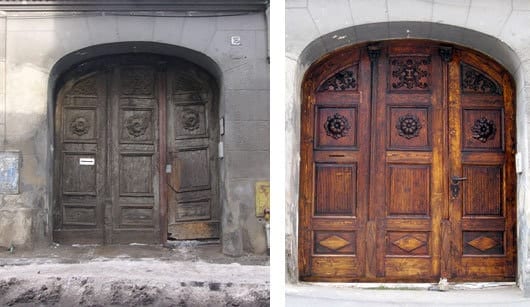 The Gates of Brașov
60 Wooden Churches The Gates of Brașov projectcoordinated by architect Silvia Demeter-Lowe, wanted to save the gates in the historical center of Brașov, thus offering the owners a hand in repairing or refurbishing the gates and, at the same time, draw attention to the importance of preserving these elements of architectural heritage. The works were executed by craftsmen specialized in wood and metal conservation using traditional materials and techniques.
The project was initiated in 2009 when a citizen of Brasov requested the help of Pro Patrimonio Foundation because he wished that the hundred-year-old wooden gate of the court in which he lived could be rescued.
Works for restoration and giving value to the gate soon followed ( 16 Brâncoveanu Street, Brașov).
The next step was to identify other gates as potential candidates for restoration. They needed to meet criteria such as architectural and historical value, position within the city and, last but not least, the owners' desire to get involved.
Details on Igloo magazine: https://www.igloo.ro/portile-brasovului -2/