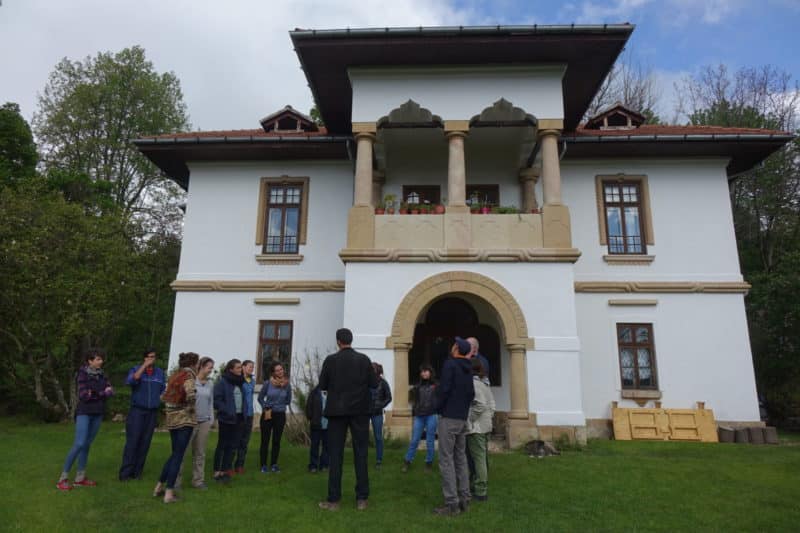 Landscape Workshop, 2017
In 2017, the work with participants involved repairing the stone structures of the garden walls, cleaning the vegetation and helping to reconstruct an old pergola.
Workshop coordinators were landscape architect Nicolas Triboi and architect Raluca Munteanu.
"We manage to cover maintenance costs [for villa and Golescu Park] through cultural activities, but sometimes other sources (sponsorships) are required for current repairs. This year we had a landscape workshop where the participants paid a participation fee which financed the renovation works of the historic park: new plants, materials (stone, lime for paving etc.)", explains arch. Raluca Munteanu – program director of Pro Patrimonio Foundation.
"The 15 participants (British volunteers from the National Trust, French and Romanian landscape architects) have rebuilt the outdoor pavement, the rose pergola, made necessary vegetation and sanitation operations. In the dendrological park with rare species, a paw-paw tree, a larch, a black pine, a Canadian maple can now be found. We expect them to grow alongside the tulip tree and all the other existing plants. Interestingly, the cleaning activities have unveiled that the park terraces are drained throughout the entire surface through a layer of stones over on top of which the grassy ground is found, thus the water is filtered through the stone and drained, so the terraces are very stable. This is another sign still that the garden, in its entirety, was cleverly designed from the very beginning. Besides the hands-on gardening activities, inter-cultural exchanges and the influence of the place and the landscape have played their part. The participants made trips to Saint Marina church – among the oldest in Câmpulung, the Heroes' Cemetery in Lereşti, the church in Bilceşti and the Alimănişteanu Mansion in Bilceşti. They ate at one of the local housewives in the village of Lunca Gârtii and went by car to see the traditional houses of Dragoslavele. The foreign volunteers were awed by the traditional carpet and rug washing-mechanism ("vâltoare") from Rucar, as well as the dioramas of Mateusz Mausoleum. All this has endowed them with rich and intense cultural, gastronomic and sensory experiences," says Raluca Martiş, Pro Patrimonio communications director.
http://www.justitiecurata.ro/campulung-muscel-despre-vila-golescu-sau-cum-poate-fi-salvata-o-cladire-de-patrimoniu-prin-implicare-civica/
Details about the workshop and Golescu Villa on Bonton TV-show from 25 June 2017:
http://www.digi24.ro/emisiuni/bonton/bonton-25-iunie-17-30-749448