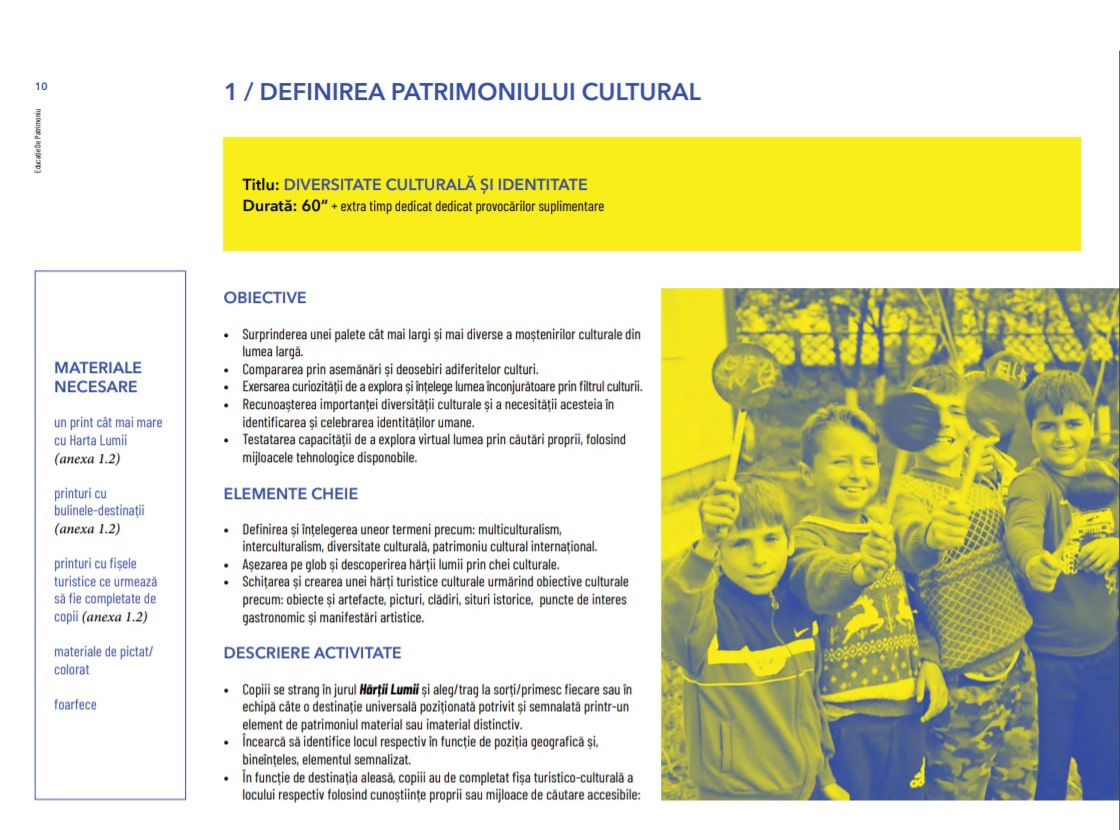 INTRO
Education projects for heritage and focused from the outset attention on building a lasting relationship between the community and valuable cultural items from around the series more or less structured workshops and events dedicated to young audiences.
In the last three years, communities of children around Manor Neamţu, the potters, the Mansion Perticari-Davila in Izvoru and Villa Golescu Câmpulung Muscel received constant activity that investigated material heritage and intangible locally through games, models , practical workshops, crafts, exhibitions and film screenings in the community.
To use?
To use?
WHO USES?
WHO USES?
The guide is intended for teachers, NGOs, groups or people with initiative who want to implement an educational program about heritage through exercises that relate directly dedicated to local cultural landmarks. The guide is aimed at children between the age of 6 to 14 years, the activities can be adapted to the team.
HOW TO USE?
Activities and proposed programs invites children to explore the surrounding world by playing the roles of various specialists and the integration of different ideas in projects 1: 1 in the community. They can be integrated for the entire period of the school year, may form the subject of other school week, can be thought of as holiday activities freely integrated in any desired program.
Why is it necessary?
Heritage Education segment where the youth appeared as a direct consequence of the need for community involvement in restoration projects and activation of the built heritage developed by the Foundation in various places in the country.
We hope this guide will best respond to the needs and curiosity of children and to provide real help in as many of the communities where it wants to develop in direct relation to local cultural values.
"Heritage Education" is an open publication, available online, an early form of a possible future implementable as optional course in the school curriculum, awaiting proposals and suggestions for improvement from users.
The guide can be downloaded directly from the Online Library Foundation Pro Patrimonio http://bit.ly/GhidEducatiePentruPatrimoniu