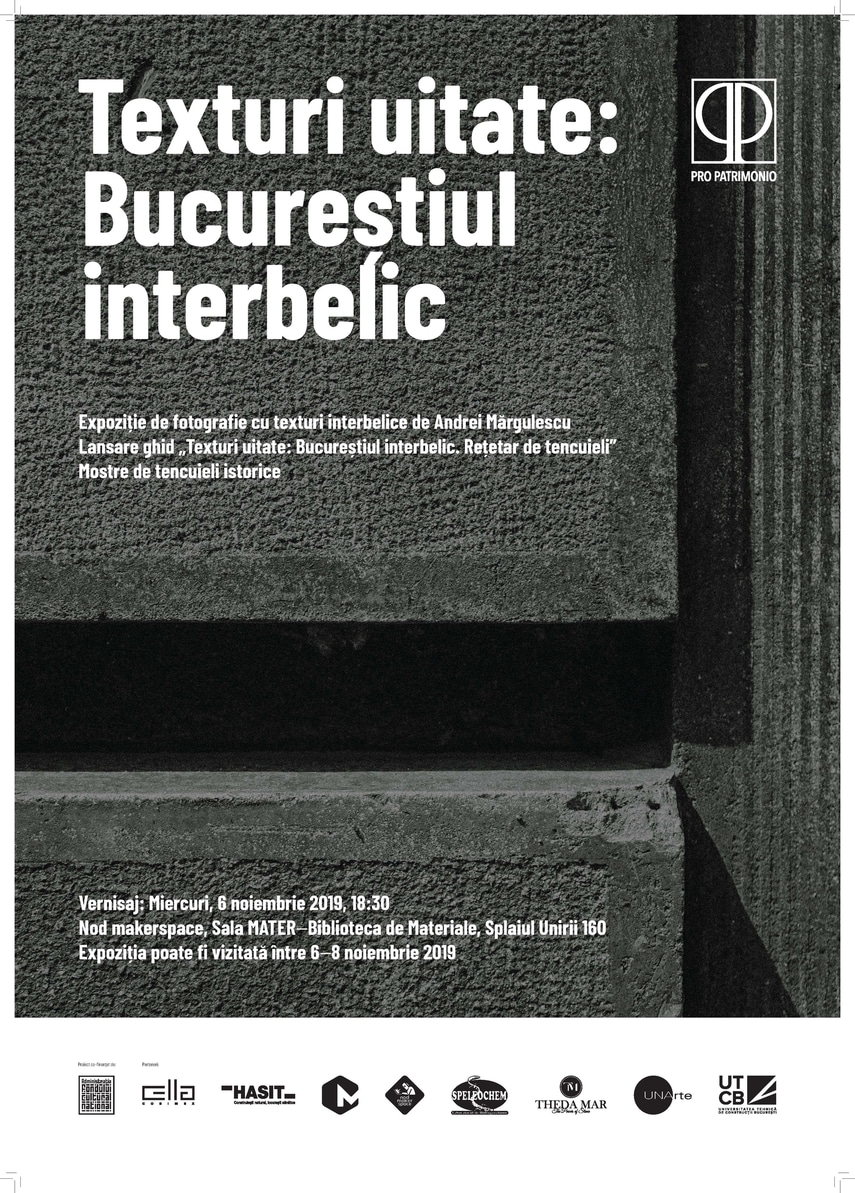 Wednesday, November 6th, 2019, 18:30 in the area Nod makerspace hall MATER - library materials no.160 Splaiul Unirii, we invite you to the photographic exhibition "Textures forgotten: Bucharest wars", launching the Guidebook "Textures forgotten: interwar Bucharest. Formulation of plaster"Collections of historic plaster samples.
This marks the end of a project conducted over eight months by the Foundation Pro Patrimonio investigated four types of plaster facade wars: similipiatră, mosaic terrace and stone plaster dust.
Inspirat de orașul București, proiectul a explorat "secretele" ascunse ale fațadelor moderniste din capitală, realizate în perioada 1918-1940. O primă etapă a fost compusă din cercetarea de bibliotecă prin documentarea rețetelor de mortare de tencuieli interbelice și a modului lor de aplicare – specifice României, dar și comparații cu tehnici din aceeași perioadă din alte țări. În paralel au fost inventariate fotografic pe teren aceste texturi, iar în luna septembrie au avut loc o serie de ateliere practice pentru testarea rețetelor documentate și a tehnicilor de aplicare pe mostre de 60x60cm pentru a conserva și revitaliza vechile tehnici/tehnologii.
De Zilele Patrimoniului Cultural European am organizat o serie de tururi ghidate de observare atentă a lotului rămas de clădiri moderniste bucureştene și am pregătit teste practice de şantier cu meșterul zidar invitat de la Asociaţia Maison Paysanne de France, Patrice Leu, specializat în tehnici tradiționale. Din discuțiile purtate în cadrul atelierelor și dezbaterii despre texturile uitate ale arhitecturii moderniste au reieșit câteva concluzii susținute și de către invitatul nostru:
1. lack of manpower trained in conservation / restoration of historic buildings in Romania. There is a great need for specialized schools for training craftsmen in the built heritage sector.
2. plasters wars and their application techniques should not be lost because it still has great potential for innovation in contemporary architecture.
3. historical plasters, unlike those commonly used today, requires time, specific notions of execution and skillful hands.
4. în procesele de reabilitare, consolidare sau renovare de astăzi, tencuielile sunt primele elemente arhitecturale sacrificate. O schimbare de atitudine în rândul profesioniștilor și a societății este absolut necesară pentru a conserva clădirile istorice și detaliile de arhitectură specifice.
Rezultatul acestei perioade de cercetări constă într-un ghid-rețetar, șase mostre de tencuieli recreate în contextul de azi și într-o serie de observații fotografice a texturilor orașului realizate de către arhitectul Andrei Mărgulescu. Proiectul se vrea a fi un prim pas în studiul finisajelor moderniste din România. Acesta este un demers original al perioadei după 1989 și, totodată, o invitație directă către toate părțile implicate în domeniul construcțiilor și arhitecturii la continuarea investigațiilor.
"Searches were driven by personal interest for the city's historic textures and restore a specific case in which I was involved. These have resulted in the Pro Patrimonio Foundation, a research adventure. The guide arises from the lack of documentation specialized in construction in Romania that provides information about the types renders wars ". - architect Ruxandra Sacalis, the guideline-recipe.
The guide focuses useful information, theoretical and practical, about materials, ingredients, recipes, finishing techniques, textures and decorative work tools, degradation common. Called Textures forgotten: interwar Bucharest. Formulation of plaster este destinat unei utilizări practice şi va fi disponibil într-o mică serie tipărită, dar și în varianta digitală. De asemenea, ghidul-rețetar își propune să fie un instrument de conștientizare de către publicul larg și specialiștii în domeniu în legătură cu semnificația culturală și istorică a tencuielilor interbelice.
"Reţetarul de tencuieli al Ruxandrei Sacaliş şi al echipei de lucru reprezintă un pas foarte interesant şi util pentru restaurarea şi întreţinerea patrimoniului construit în perioada interbelică. Onestitatea demersului întreprins de echipele participante – meşteri şi arhitecţi – dezvoltă în viitor un proces extins şi un sistem de comunicare adecvat pentru a da o şansă reală unei culturi pe care Bucureştiul construit încă o are şi pe care o putem îmbogăţi. Experimentul şi cercetarea se pot face şi în grupuri mici, cu profesii diverse, care comunică bine între ele. Vă invit să încercăm, este o şansă pentru viitoarele texturi arhitecturale de care toţi avem nevoie. Atenţie, domeniul este inepuizabil". – arhitect Şerban Sturdza, şef de proiect.
A project of the Foundation Pro Patriomonio
Project Manager: arch. Serban Sturdza
Documentation Coordinator: arch. Ruxandra Sacalis
Coordinator practical workshops: arch. Andreea Machidon
Photographic documentation: Arch. Andrei Margulescu
Editor guide: Mirela Duculescu
Graphic Design: Mona Petre
Cultural project co-financed by AFCN. The project does not necessarily represent the position of the National Cultural Fund Administration. AFCN is not responsible for the content of the project or how project results can be used. The responsibility it is entirely grant beneficiary.
Partners: Cella Cosimex Institute of Speleology, Hasit, Node makerspace hall MATER - Library Materials, Theda March and Technical University of Civil Engineering of Bucharest
Resources
Facebook event http://bit.ly/Tencuieli
Photos attached:
Picture 01 - Collage of textures interwar combed, polished şpiţuită and decorative profile shot. Photo credit: Andrew Margulescu
Picture 02 - Example spread of plasters Formulation Guide
---