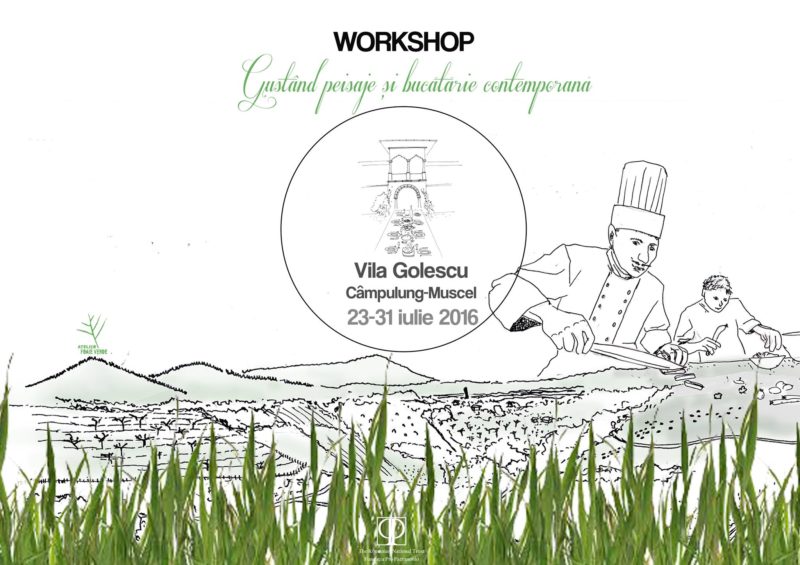 Culinary Landscape Workshop, 2016
In order to explore in depth the concept of cultural landscape, the Golescu Landscape Observatory proposed a new theme for 2016: the connection between the local culinary landscape and contemporary cuisine. If the first series of workshops was dedicated to gardening in the century-old park of the villa, to exploring the setting with its surrounding hills and mountains, in 2016 the Golescu Complex became the starting point where one gets "a taste" of its sublime landscapes.
The workshop was held by two landscape architects (Nicolas Triboi and Alina Adascalitei) and two chefs (French Théo Ducher and local housewife Mariana, Lunca Gârtii village).
Argumentul coordonatorilor: Peisajele se află la baza produselor locale pe care le putem folosi în alimentația noastră. Diversitatea peisajelor din jurul Câmpulugului asigură o bogăție de multe ori necunoscută pentru produsele de calitate: câmpii calde și fertile, coline cultivate, munți pastorali și sălbatici. Ce poate fi mai prietenos decât o masă bună ce deschide spiritul? Nu e cumva bucătăria locul ideal de reinterpretare senzorială a peisajelor? De ce n-ar fi acesta un moment ideal pentru a te reîncărca? Legume, ciuperci, carne, brânzeturi, plante aromatice… "spune-mi ce mănânci ca să-ți spun cine ești!" Peisajele au gust, sunt comestibile și trebuie să le redescoperim pentru a le "găti" mai bine.
Atelierul a cuprins mai multe etape: descoperirea produselor locale, a locurilor de producție, a producătorilor; degustarea produselor locale și clasificarea acestora, analize științifice și de gust; atelierele de bucătărie: întâlnirea dintre bucătăria tradițională și cea contemporană; editarea unui ghid de rețete de la Vila Golescu.